JBL X GOOGLE ASSISTANT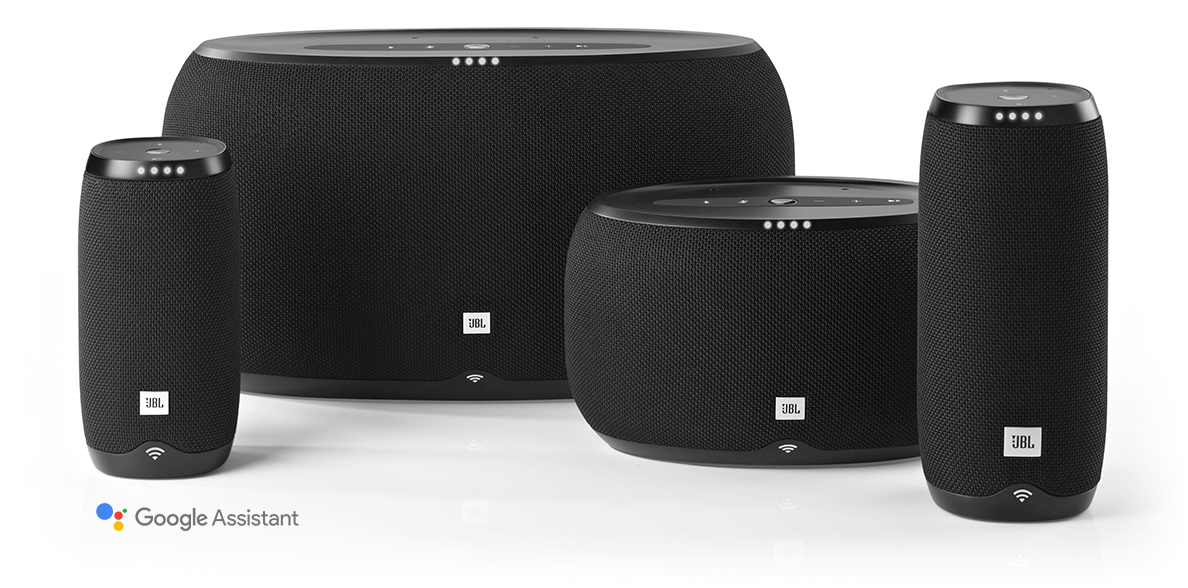 LINK speakers deliver exceptional sound with
the intelligence of Google Assistant.
With your voice, you can command your audio, ask it questions, tell it to do things, manage your schedule and control your smart home. The LINK series of speakers allow you to expand the same experience beyond confinement of your home to outdoors. LINK 10 and LINK 20 are portable and waterproof for use anywhere in your home and in your backyard. LINK 300 and LINK 500 provide more powerful sound experience with deep, rich bass and clear highs and serve as your ideal home speakers. Multiple speakers can be easily synched together to provide an engaging, amplified multi-room listening experience.
Legendary sound, now smarter.
Use your voice to ask for your favorite songs and enjoy high-definition music streaming, powered by the cloud.1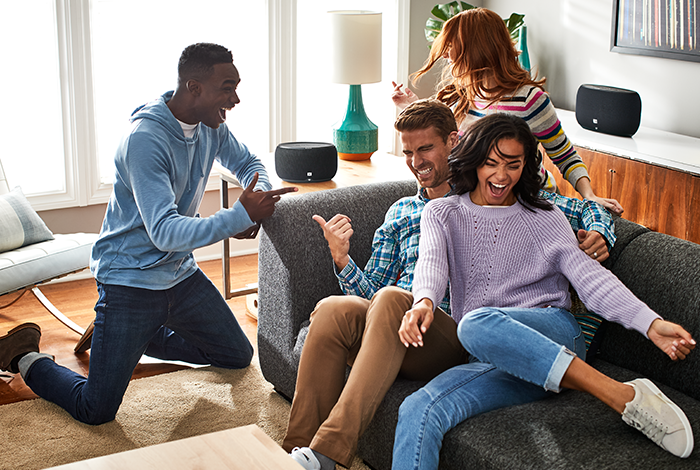 Ok Google, play some rock music
Hands-free help from the
Google Assistant
Get answers, play songs, tackle your day, enjoy your entertainment and control your smart home with just your voice. 2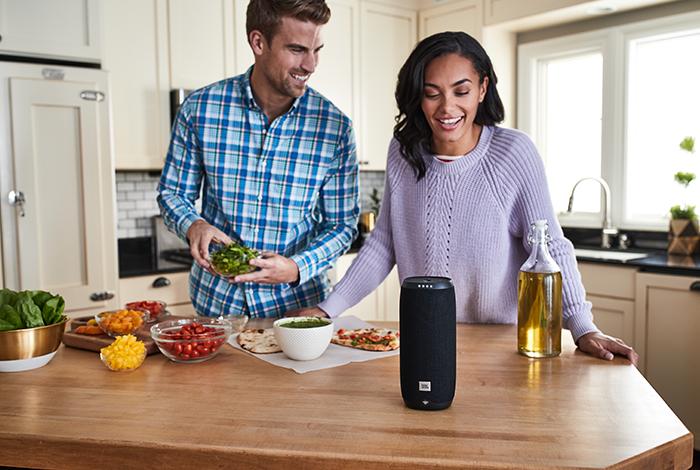 Ok Google, add milk to my shopping list
Control your smart home
Use your voice to set the perfect temperature or turn down the lights from your compatible home automation devices. 2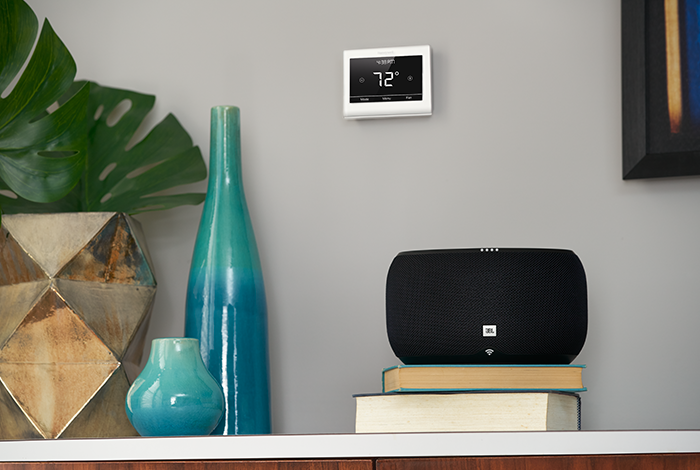 Ok Google, set the thermostat to 72 degrees
Multi-room audio experience
Group multiple speakers with Chromecast built-in together to enjoy the same song in every room. Enjoy music streaming in high-definition across all your speakers, powered by the cloud.2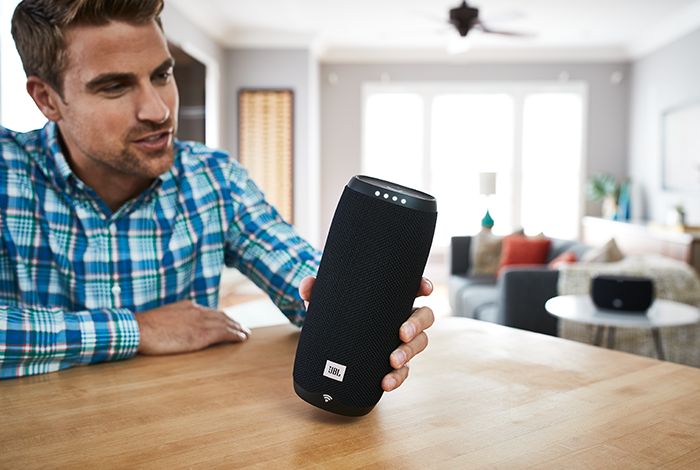 Ok Google, play some jazz on all speakers
Take the party outside with LINK10 and LINK20.
Take your LINK portable speakers to the backyard and extend the fun to the poolside with rugged and waterproof design. 2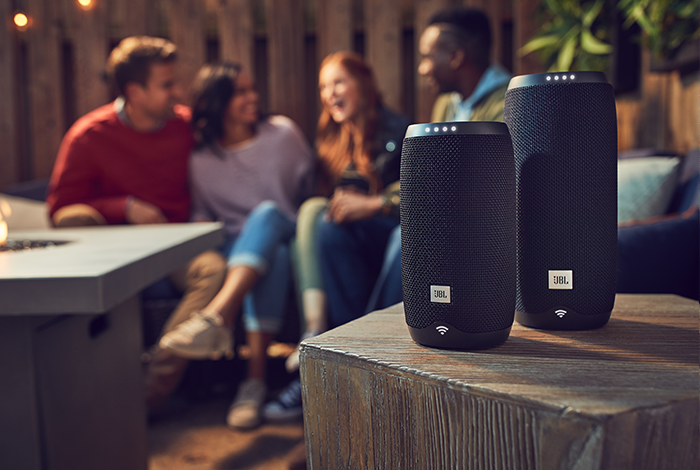 Ok Google, what is the temperature outside?
Compare the speakers
Voice Control
Far-FIeld Voice Recognition with the Google Assistant
Smart Home Control
Multi-room
HD Smart Display
Battery
5 hours
10 hours
Waterproof
IPX7
IPX7
Easy speaker setup
Setup with Google Home App (Same experience across all Chromecast built-in speakers)
HD Audio
96kHz/24-bit HD music streaming, powered by cloud
Chromecast built-in
WiFi & Bluetooth
IMMERSIVE STEREO SOUND

Provides up to

5 hours of playtime.

RICH STEREO SOUND

Provides up to

10 hours of playtime.

ROOM-FILLING SOUND

The speaker has one tweeter and one woofer to deliver a powerful JBL sound experience. The tweeter delivers a crisp high frequency response and the woofer ensures you hear the mid-range vocal frequencies with deep, rich bass.

DEEP BASS AND CLEAR HIGHS

This product has a superior acoustic package with bigger tweeter and woofer to deliver powerful JBL sound experience. The tweeter delivers a crisp high frequency response and the woofer ensures you hear the mid-to-high range vocal frequencies with deeper, and richer bass.
1) Subscriptions may be required to access certain content. Additional terms, conditions and/or charges may apply.
2) Requires Internet connection. Controlling certain devices and features in your home requires a compatible smart device. For example, the query "Play 'The Crown' on my TV" requires a Chromecast-connected TV, and controlling devices like lights and thermostats requires compatible smart lights and smart thermostats linked to Google Home. Controlling devices such as coffee makers, baby monitors and fans in your home requires compatible smart plugs and/or switches.
Google Voice Controlled Speakers
Considering purchasing a "smart speaker" for your home? While a Google Home Bluetooth speaker can set timers, check the weather, turn lights on and off, lock your doors, stream YouTube videos, order a pizza and many other neat tricks...as a speaker its primary function is generally to play music. So if you're a music loving audiophile you'll want to choose one that's capable of delivering the best sound possible.
Read More »
What is a Google Assistant speaker?
A "Google assistant speaker" is a Bluetooth speaker which is controlled by voice commands using virtual services such as Google Assistant. It can automate various functions around your home and is activated by simply saying "Hey Google" and telling it what you need. Want to find a recipe, book a restaurant or schedule a meeting? Just call on your virtual assistant and it will be done...instantly! It's basically the same technology you'll find on a Google smartphone and can essentially control your entire digital life.
Living in a hands-free "smart home" is of course great but many people find that their Google Home Bluetooth speaker has sound quality that's...well...not so great. While everybody loves being able to play their favorite songs without needing to lift a finger, if the sound quality is poor you'll probably find you won't be doing it very often.
Music lovers and audiophiles who are used to high fidelity, accurate and clean sound demanded something better. They wanted the best voice controlled Bluetooth speakers that not only provided all the functionality they needed but sounded good as well.
What is the best voice controlled speaker?
Today there are many brands offering voice controlled Bluetooth speakers but none have the same experience and audio engineering know-how as JBL. As the company responsible for concert sound at Woodstock and building reference-standard monitors used in recording studios around the world, no one knows audio like JBL. So if sound quality matters to you, choosing a JBL Bluetooth speaker is a smart idea.
The JBL LINK range - superior sound and functionality
If you like being able to control your sound system using voice commands and asking it questions, while at the same time enjoying powerful, clean and dynamic sound...you simply must audition the LINK range.
Kicking off with the LINK 10 and LINK 20 models you get HD quality stereo sound which is rich, immersive and free of distortion, in a transportable, hard-wearing and waterproof enclosure. Powered by the cloud, setup is quick and easy using the Google Home App. These exceptional products are Bluetooth and Wi-Fi enabled and are suitable for multi-room applications.
For the true audiophile and music lover the LINK 300 and LINK 500 deliver room-filling, high fidelity sound without raising a sweat. You will experience deep, solid bass and crisp, clear highs...the sort of sonic performance you have come to expect from JBL.
All LINK models have built-in Chromecast and can be used with online services such as Netflix, Spotify, YouTube Music and many others.
Check out the full range at an authorized local dealer in Indonesia or buy with confidence online.