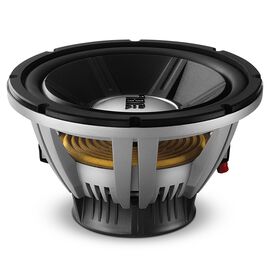 Powerful 12 inch Dual Voice Coil (DVC) Subwoofer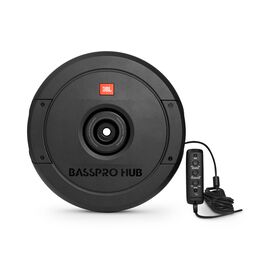 11" (279mm) Spare tire subwoofer with built-in 200W RMS amplifier with remote control.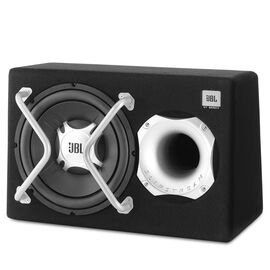 450-watt, 12" powered subwoofer system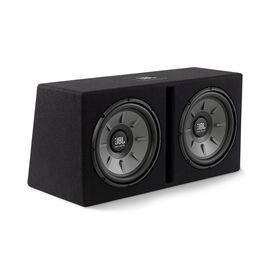 Stage subwoofer 12"(300mm) ganda yang terpasang dalam wadah berlubang (slot-port)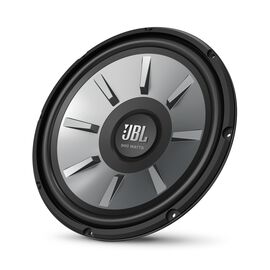 Woofer 10 "(250mm) dengan 225 RMS dan 900W power handling puncak.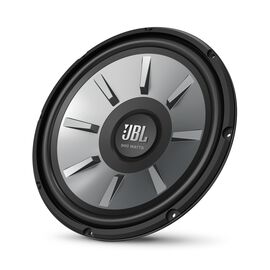 Woofer 10 "(250mm) dengan 225 RMS dan 900W power handling puncak.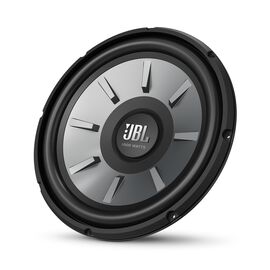 12" (300mm) woofer with 250 RMS and 1000W peak power handling.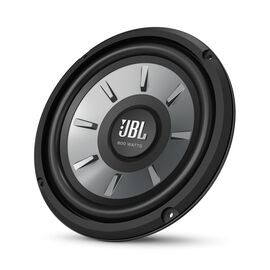 Subwoofer JBL Stage Car 8 "(200mm)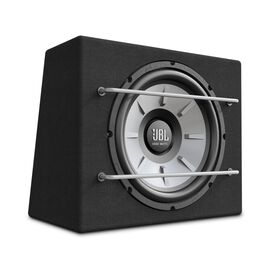 Tutup batas ramping dengan subwoofer 12" (300mm)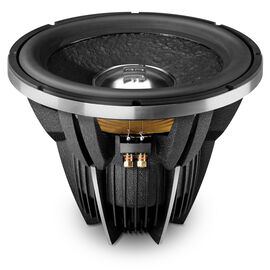 Subwoofer koil dual suara berukuran 15" dengan daya 5000 watt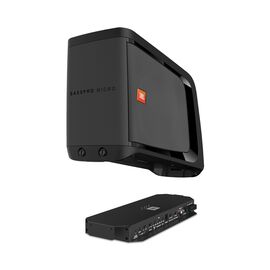 Sistem Subwoofer Bertenaga dan Mudah Dipasang JBL BassPro Micro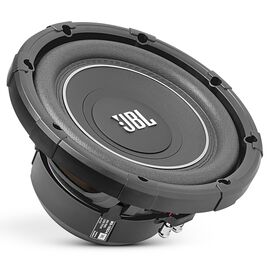 An advanced-design, shallow-mount, 4-ohm dual voice-coil subwoofer delivering phenomenal bass in a small space
Apa itu subwoofer mobil?
Subwoofer mobil (kadang-kadang disebut sebagai sub) adalah bagian dari sistem audio mobil atau truk yang dirancang khusus untuk mereproduksi suara yang sangat rendah. Biasanya, woofer yang terdapat dalam sistem speaker biasa mencakup rentang frekuensi audio dari sekitar 20 hertz (Hz) hingga sekitar 2.000 Hz. "Mid-woofer" memperluas jangkauan atas hingga sekitar 5.000 Hz. Subwoofer audio mobil di sisi lain dirancang untuk mereproduksi frekuensi dari di bawah 20 Hz hingga sekitar 200 Hz. Dengan menggunakan pengeras suara khusus untuk menutupi frekuensi sangat rendah itu, setiap komponen sistem audio akan dapat melakukan pekerjaan yang lebih baik dalam mereproduksi frekuensi yang diterimanya.
Subs dapat digerakkan oleh amplifier terpisah atau dapat memiliki built-in amplifikasi, di mana mereka disebut sebagai "bertenaga". Subwoofer bertenaga terbaik untuk mobil akan menghasilkan bass yang solid, bersih, bebas distorsi hingga frekuensi yang Anda tidak hanya dengar ... rasakan! Jika Anda belum pernah mengalami suara 20 Hz yang direproduksi secara akurat, coba dengarkan lagu pembuka Sisi Gelap Bulan Pink Floyd melalui sub bertenaga JBL dan Anda akan mengerti maksud kami. Anda akan merasakan "detak jantung" yang beresonansi di tulang Anda!
Read More »
Ukuran apa yang terbaik untuk subwoofer bertenaga di mobil atau truk?
Untuk kinerja terbaik, ukuran minimum umumnya sekitar 8 inci, tetapi pilihan tipikal adalah 10, 11 atau 12 inci. Jika Anda ingin sistem Anda benar-benar mengemas pukulan model top sekitar 15 inci. Ukuran yang Anda pilih akan sangat tergantung pada ukuran kendaraan Anda, anggaran dan preferensi mendengarkan Anda.
JBL BassPro Hub adalah sub 11 "dengan penguat RMS 200W dan kontrol jarak-jauh. Dirancang agar sesuai dengan hub ban cadangan Anda, memungkinkan pemasangan yang mudah dan solusi audio mobil yang tidak terlihat.
Bagi mereka yang lebih suka memasok amplifikasi mereka sendiri, kisaran JBL Stage tersedia dalam 3 ukuran (8, 10 & 12 inci) dan cocok untuk hampir semua mobil atau truk. Sub-kualitas ini menghadirkan kerucut polypropylene bermutu tinggi untuk keandalan luar biasa dan kinerja dinamis.
Jika Anda menginginkan yang terbaik ... GTO1514D adalah 15 "sub dengan kumparan suara ganda dan daya puncak menangani hingga 1400W besar. Ini memberikan kinerja yang menghancurkan bumi.
Jenis penutup apa yang terbaik?
Biasanya subwoofer mobil dipasang di kotak tertutup atau porting. Kotak tertutup umumnya lebih kecil tetapi membutuhkan lebih banyak daya, sementara kotak porting mampu menghasilkan output yang lebih tinggi tetapi dapat menempati lebih banyak ruang.
JBL Stage 1200B adalah sub 12 "yang dipasang pada penutup yang disegel. Desainnya yang ringkas memungkinkannya untuk dipasang dengan mudah di sebagian besar kendaraan sambil memberikan kinerja yang kaya dan memuaskan.
Apa arti "impedansi"?
Impedansi pembicara, diukur dalam ohm, mengacu pada ketahanannya terhadap aliran listrik. Dalam konteks subwoofer audio mobil, penting untuk memeriksa impedansi amp yang sesuai dengan subwoofer. Teknologi SSI (Selectable Smart Impedance) JBL yang dipatenkan dan unik memungkinkan Anda untuk beralih antara 2 atau 4 ohm beban untuk stabilitas dan kinerja optimal.
Mengapa memilih JBL?
Sebagai perusahaan yang bertanggung jawab atas beberapa monitor studio profesional terbaik dunia, speaker stereo rumah dan sistem suara konser di tempat-tempat seperti Woodstock dan Kennedy Center ... tidak ada yang tahu audio seperti JBL. Lihatlah rangkaian lengkapnya di dealer resmi di Indonesia hari ini.