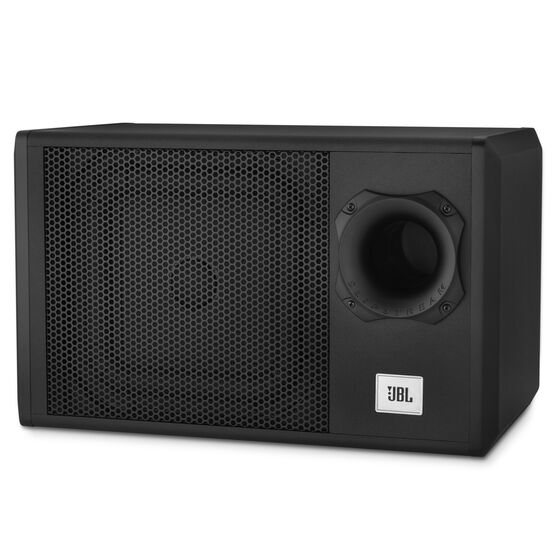 MS-BassPro SQ
Details
http://id.jbl.com/MS-BASSPRO+SQ.html?dwvar_MS-BASSPRO%20SQ_color=Black
---
450-watt, all-in-one subwoofer system
10" (250mm) square diaphragm
Engineered specifically for the JBL MS-BassPro SQ, the square diaphragm design allows the maximum radiating cone area and bass output for this compact and powerful subwoofer system. This is not an off-the-shelf design. Rather, JBL engineers built this proprietary design from the ground up for this product. Since a square covers more area than a circle of the same height and width, this woofer diaphragm performs like a larger diaphragm, even though it's as compact as a standard 10-inch subwoofer cone.
Bass-reflex enclosure
The MS-BassPro SQ's bass-reflex (or "ported") style of enclosure allows the speaker and port to complement one another at the tuned frequency, thus increasing overall bass output. It also maximizes the effectiveness of the built-in amplifier to deliver power in the frequency range where other sealed enclosure designs require more power for similar output. In short, it delivers the bass that other powered subs only wish they could.
Proprietary Slipstream™ port
A proprietary Slipstream port is a special feature of the MS-BassPro SQ. The port's dual flares eliminate vent noises even at high sound pressure levels – a characteristic that many other bass-reflex enclosures do not have. Since the velocity of the air in the port can be substantial as bass output increases, the Slipstream design ensures that you hear only the rich bass and not the air "chuffing" out of the port. It's a feature also found in JBL's high-end home and studio-quality speakers, and it makes the bass from the MS-BassPro SQ quite impressive.
Innovative, wide-range signal inputs
The MS BassPro SQ (with included RCA-to-bare-wire adapters) accepts up to 20 volts of input signal, whether it's a line-level or speaker-level signal. This means easy connection to any car's audio system – OEM or aftermarket. There's no need to worry about whether the subwoofer system will be able to connect in your car. It will.
Signal-sensing turn-on feature
The MS-BassPro SQ features a signal-sensing remote turn-on option. When enabled, it allows the MS-BassPro SQ to turn on whenever the head unit sends an audio signal. This feature is useful in many installations using a factory head unit that may not have a dedicated analog remote turn-on wire. The turn-on option is easily switched off for aftermarket head units that do have a dedicated remote turn-on wire. It's yet another way in which the MS-BassPro SQ is engineered to work easily with any car's audio system.
Input-level, low-pass crossover, bass-boost and phase adjustments
The MS-BassPro SQ includes a range of adjustments allowing users to tailor the system's performance to their preferences. An input-level control precisely matches input signals to the built-in amplifier for maximum undistorted bass output. The onboard low-pass crossover is variable between 50Hz and 120Hz, so it'll blend well with any other speakers in the vehicle. Bass boost (0 to +12 decibels at 40Hz) and 0 or 180-degree phase controls help to maximize the MS-BassPro SQ's performance, no matter where it is installed in the vehicle and no matter what style of music you choose.
Rugged black exterior finish
The MS-BassPro SQ has a rugged, matte-black finish that elegantly blends with any vehicle's interior or trunk. MS-BassProSQ looks great no matter what cargo is along for the ride.
Perforated black metal grille
A professional-looking black perforated metal grille protects the square woofer diaphragm from being damaged by shifting cargo. It also provides an elegant way to blend a subwoofer into a vehicle without making the subwoofer look out of place.
Optional wireless bass controller
The MS-BassPro SQ works with an optional MS-WBC that wirelessly controls bass levels from a driver's seat. Installation is easy and the adjustments are precise. The wireless bass controller provides on-the-go level control to blend bass perfectly for any song or road-noise conditions.
The powered subwoofer that's ideal for any car's audio system.
Great bass in your car does not need to be complicated. The compact yet powerful JBL® MS-BassPro SQ provides a premium level of low-frequency performance normally associated with external amplifiers, component subwoofers and bulky, custom-built enclosures. It delivers the performance of all those components in one complete, easily installed package. The MS-BassPro SQ has a high-efficiency, 300-watt RMS (450-watt peak), built-in Class D amplifier delivering powerful performance to a square 10-inch (250-millimeter) subwoofer in a bass-reflex enclosure using proprietary Slipstream port technology. Professional optimization makes the MS-BassPro SQ deliver incredible performance. The MS-BassPro SQ includes other special features as well: speaker-level and line-level inputs (up to 20 volts) that easily connect to the car's existing audio system; a signal-sensing feature that automatically turns the MS-BassPro SQ on when the car's audio system is on; and controls for input-level adjustments, low-pass crossover frequency and bass boost. There's even an optional wireless remote (MS-WBC) that controls bass levels from the driver's seat. The result is distortion-free low-frequency response and excellent performance for all types of music. High efficiency and a very modest current draw from the vehicle's electrical system makes the MS-BassPro SQ an ideal upgrade choice for any car's audio system, particularly in today's newer vehicles.
Audio Specifications
Frequency Response
20Hz-150Hz
Power Handling (RMS)
300W
Woofer Specifications
Crossover Slope
12dB/octave
Low-Frequency Transducer
10" square diaphragm
The latest owner's manuals, quick start guides, and documents.
Sharing
<div id="olapic_specific_widget"></div> <script type="text/javascript" src="https://photorankstatics-a.akamaihd.net/81b03e40475846d5883661ff57b34ece/static/frontend/latest/build.min.js" data-olapic="olapic_specific_widget" data-instance="09a3aa0d6cf14f1a0993a5bb26b3dbdd" data-apikey="9a6135cc2f70d7e0622455f3bb6a28b5dcba2668f6aaabb7c1c1ce9654770eee" data-tags="ms-bassprosq" data-lang="" async="async"></script>