Sport Headphones
Sport Headphones
Built to endure personal bests
Designed to reach a new level of performance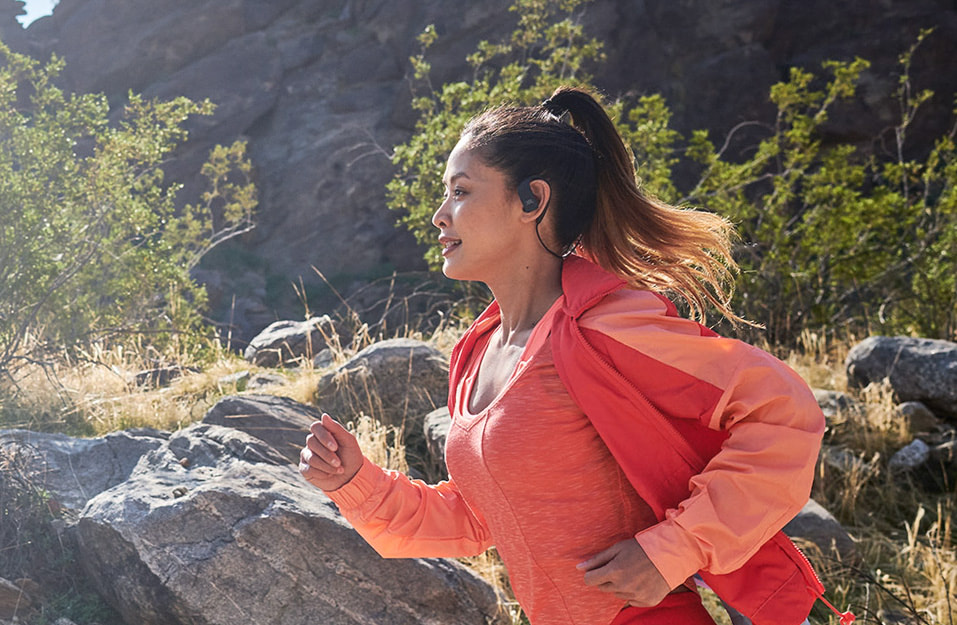 SELECT A SERIES
Endurance

Series

Reflect

Series

Shop All
ENDURANCE SERIES
Push your limits with headphones that have none. Sweatproof and waterproof sport headphones built to survive the elements and sound great doing it.
Feature Highlights:
TwistLock and FlexSoft tech for a secure fit

Convenient and easy to use

Sweatproof / Waterproof
REFLECT SERIES
Built for sport. Designed for style. Bold headphones that deliver big sound and keep up with your active lifestyle.
Feature Highlights:
High visibility reflective cables

Lightweight and durable for lasting comfort

Wireless bluetooth design
Bluetooth in ear sport headphones
Sports Headphones
Here are few things to consider when buying Bluetooth in-ear sport headphones...
Wireless sports headphones
Why choose JBL?
Read More »
On-ear and over-ear earphone designs are terrific for listening to your favorite tunes while curled up on the lounge or in a comfy chair. However for active use such as when walking, jogging, cycling or a rigorous workout at the gym, there are some disadvantages. If you like the motivational boost you get from listening to great music while lifting weights, exorcising or playing sport...in-ear or earbud "sports earphones" are a better choice.
Why? Being specifically designed for active users they will stay in place better and enhance rather than impede your activities. To an active user there is nothing more annoying than having headphones slip off your head or getting caught up in wires while you are working out.
Here are few things to consider when buying Bluetooth in-ear sport headphones...
Comfort: If your earphones aren't comfortable you simply won't be able to wear them for extended periods, no matter how good they sound. There are many different designs on the market including those that use a hook or neckband, but regardless of the design you want them to be comfortable, secure and able to be worn for long periods without inducing fatigue.
For example the JBL Endurance SPRINT uses a patented "MagHook" design which prevents them from falling out or causing any discomfort. Touch controls are included so you can easily manage your music, plus with Bluetooth technology you can easily make hands-free phone calls. With IPX7 waterproofing and JBL's Signature sound quality they are a smart choice for all active users.
Sweat-proof: When you are doing any sort of rigorous activity it's highly likely you are going to sweat. The best earphone designs allow for this so you can ramp up your workouts without fear. The JBL Reflect Fit is a sweat-proof design which is lightweight and flexible. With 10 hours of battery life, heart rate monitoring and a secure fit it is the perfect workout companion.
Waterproofing: Let's face it; if you're out walking, running or cycling you are going to encounter rain sooner or later. That's the time you'll wish your headphones were waterproof. It's a great feature to have and will prevent them from being damaged or posing a safety risk if they fall off.
Noise cancelling: Want to shut out the outside world so you can enjoy a focused and distraction-free workout? You'll want noise cancelling. Keep in mind though that letting a little noise in for "situational awareness" is a good safety feature. The JBL Reflect Aware offers active noise cancellation with smart "adaptive noise control" allowing you to adjust the level of environment noise.
Sound quality: You might be totally immersed in your workout but you still want your headphones to sound good. Cheap, low quality models will be fatiguing to wear for extended periods and are likely to fall apart before long. Everyone needs good sound quality...even athletes! All JBL sports headphones are built to our exceptionally high quality standards and provide powerful, clean and detailed sound free of distortion.
Wireless sports headphones
Nobody likes dealing with messy wires and that is especially true for sports users. Being able to move about freely without being tethered to wires is a huge advantage. JBL offers a wide range of wireless sports headphones such as the Endurance JUMP. These Bluetooth in-ear sport headphones feature TwistLock and FlexSoft technologies to ensure stability and comfort for any workout.
Why choose JBL?
For decades JBL has been designing and manufacturing awesome sounding speakers coveted by home users and professionals around the globe. That total devotion to quality and performance can be found in our sports headphones as well. Discover the full range at an authorized online or local dealer in Indonesia today.