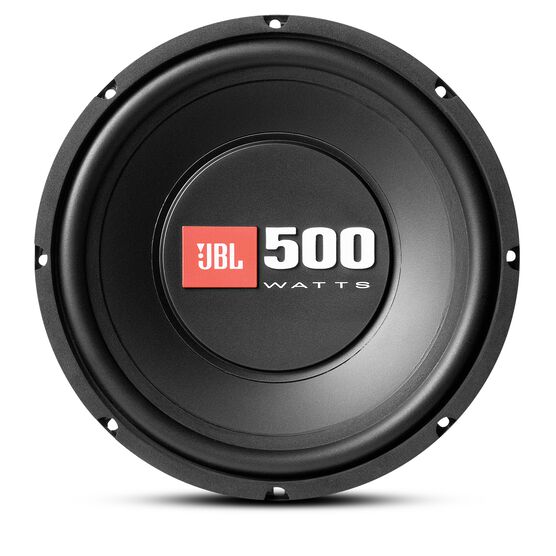 CS1014
Details
http://id.jbl.com/CS1014_.html?dwvar_CS1014___color=Black-GLOBAL-Current
---
500-Watt, 10" Single-Voice-Coil Subwoofer
25 – 500 watts suggested amplifier power range
JBL engineers designed the CS1014 subwoofer to produce impressive, muscular bass from an amplifier capable of delivering up to 500 watts of power.
Big bass with Polypropylene woofer cone
Road noise can destroy realistic audio that always requires true low frequencies. Polypropylene delivers rigidity, with good internal damping, and complete weather-resistance. You get an impossible-to-miss increase in thumping bass.
A progressive spider for maximum control
The JBL CS1014 features a progressive spider, which offers better control at the excursion limits than the linear spider commonly used by competitors. This reduces distortion even at the highest output levels.
Easy installation
The CS1014 is easy to install in your car. The speaker's mounting depth lets it fit into a wide variety of vehicles. It works in sealed, vented and band-pass enclosures as well as infinite-baffle applications. Connecting the subwoofer to an amplifier is a straightforward process that the owner's manual explains in four basic steps. You won't have to wait long to enjoy your favorite music.
The JBL legacy of sound
JBL sound systems serve thousands of movie theaters, recording studios and concert halls. JBL systems have a sterling reputation in car audio, too: Since 1996, Toyota® vehicles have rolled off the assembly line bearing JBL sound. The CS1014 proudly carries on this rich legacy.
With an impressive 500 watts of peak power handling, the JBL CS Series CS1014 subwoofer outperforms anything you may have heard before. Its polypropylene woofer cone is light as a feather, ensuring maximum efficiency and performance. A progressive spider provides better control at excursion limits than a linear spider ever could, reducing distortion at even the highest output levels. Go ahead and use the CS1014 with a small amplifier. You'll have exquisite bass reproduction. Sure, it's the sound in your car. And it matters. JBL knows what your standards are no matter where you are and where you go – and they're our standards too.
Sharing
<div id="olapic_specific_widget"></div> <script type="text/javascript" src="https://photorankstatics-a.akamaihd.net/81b03e40475846d5883661ff57b34ece/static/frontend/latest/build.min.js" data-olapic="olapic_specific_widget" data-instance="09a3aa0d6cf14f1a0993a5bb26b3dbdd" data-apikey="9a6135cc2f70d7e0622455f3bb6a28b5dcba2668f6aaabb7c1c1ce9654770eee" data-tags="cs1014_" data-lang="" async="async"></script>